At Open Pathways Institute for Integrative Massage, you will have the opportunity to:
Discover ways to practice Chinese Medicine using Acupressure, Essential Oils and Herbs
Learn Chinese Medicinal theory, including Meridian Theory and Five Elements Theory
Realize the uses of Meridian Massage and Acupressure-Massage to address a wide range of health concerns
Create a private practice that provides true healing by addressing the source of clients' pains or problems
Envision expanding beyond Massage Therapy, and into Integrative Health Care
"If you are lucky enough to attend one of Raizleah's courses, even as a seasoned therapist, you will gain experience and knowledge that only comes from someone as well rounded and grounded as Raizelah. I highly recommend Raizelah as an instructor."
Laura Palmer, MHA and CMT at Sutter Integrative Health Center
"I have had the pleasure of taking many massage trainings with Raizelah. She is patient and thoughtful in her teaching, imparting her depth and bredth of knowledge in a very accessible way. She is able to acknowledge each student's learning style, and adjust her teaching to accommodate. Her joy and passion for what she does comes through in her teaching. I am grateful for her compassionate teaching style. I would highly recommend any massage therapist to give their career the gift of a training with Raizelah." 
Heather Bishop, MT Supervisor at Osmosis Day Spa Sanctuary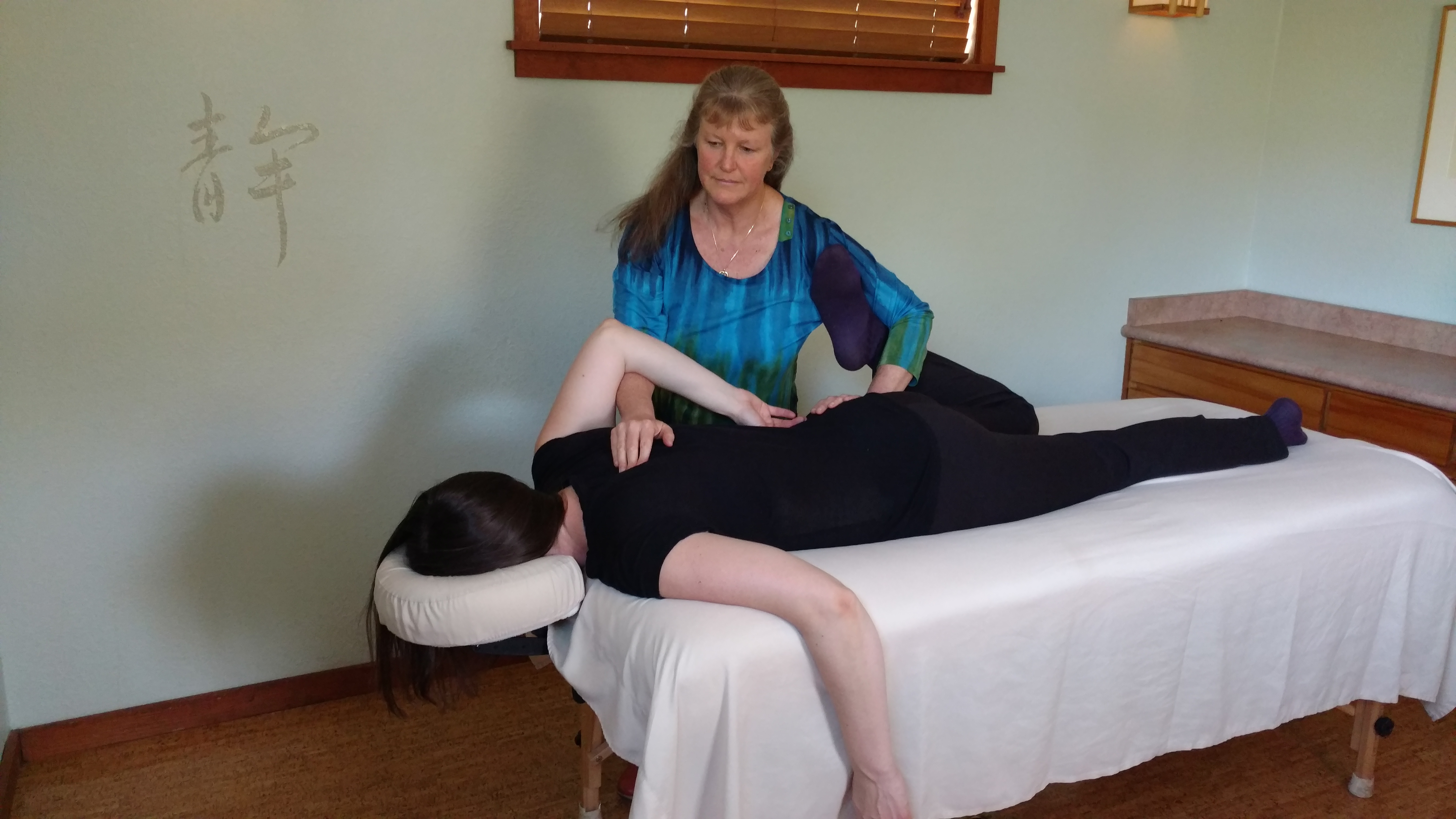 Hi, I'm Raizelah Bayen,
Approved CEU Provider by the National Certification Board
in Therapeutic Massage and Bodywork
With a passion for learning, Raizelah was certified in Integrative Massage in 1991, and never stopped taking classes in the healing arts. She followed her initial massage training with certifications in Eastern Massage and Acupressure, Jin Shin Jyutsu, Chinese and Western Herbology, Aroma Acupoint Therapy and Yoga instruction.  
Most naturally, Raizelah began to weave together the modalities she studied, in her work, developing a unique style of Integrative Health Care that combines hands-on Meridian Massage and Aroma Acupressure, with home care regimes that include essential oils, herbs and yoga poses or stretches to address client complaints. Her hands-on work was informed by her own practices in mindfulness and embodiment, which provided the foundational ground for her work and life.
Early in Raizelah's career, she discovered her passion for teaching. She first started teaching massage in 1998, at Twin Lakes School of the Healing Arts in Santa Cruz, and followed that with 15 years as a core instructor at the Sebastopol Massage School in Sonoma County. From massage instruction, Raizelah moved into massage management at Osmosis Day Spa Sanctuary, where her gift for teaching was recognized, and where she was given the opportunity to train the staff in not only massage modalities, but also aromatherapy, body mechanics and safety. . 
Concurrently, taught wellness workshops at yoga studios and the spa, all blending self-massage and self-acupressure with aromatherapy, herbs and yoga, in service of embodiment and self-care. These integrative workshops were a foreshadow of what she would create when she launched her own massage school.
In 2020, Raizelah took a leap, leaving her job as a spa manager, in order to fulfill her dream of opening a massage school. Open Pathways Institute for Integrative Massage is the fulfillment of this dream. Her passion is to support Massage Therapists who envision expanding into Integrative Health Care, weavers of hands-on healing with herbs and aromatherapy, all informed by the principles of Chinese Medicine, to provide in-depth and holistic care for their clients. Her classes include Eastern massage modalities, Chinese Medicinal Theory and Practices, Aroma Acupressure, Herbal Formulation and more