For massage therapists
who feel called to go deeper in healing...
Our programs are for you if you want to:
Bring more powerful and effective modalities into your massage practice
Integrate Chinese Medicinal tools and techniques into your bodywork
Support clients from a whole body perspective
Foster body mechanics that will enable you to work in this field for decades
Develop work as a spiritual practice that enables you to deepen your presence
Increase your re-booking and referral rate
Earn CEUs approved by the National Certification Board in Therapeutic Massage & Bodywork
With the right tools, you can be more than a massage therapist. 


You can be an integrative health care practitioner, 
and become more effective in your work with clients.


At Open Pathways Institute for Integrative Massage, you will :
Discover ways to practice Chinese Medicine using Acupressure, Meridian Massage, and Aroma Acutouch Therapy
Explore Chinese Medicinal theory, including Meridian Theory and Five Elements Theory
Learn to address a wide range of health concerns using Chinese Acupressure and Aroma Acutouch Therapy
Create a private practice that provides true healing by addressing the source of clients' pains or problems
Envision expanding beyond Massage Therapy, and into integrative health care


"If you are lucky enough to attend one of Raizleah's courses, even as a seasoned therapist, you will gain experience and knowledge that only comes from someone as well rounded and grounded as Raizelah. I highly recommend Raizelah as an instructor."
-Laura Palmer, MHA and CMT at Sutter Integrative Health Center
"I have had the pleasure of taking many massage trainings with Raizelah. She is patient and thoughtful in her teaching, imparting her depth and breadth of knowledge in a very accessible way. I would highly recommend any massage therapist to give their career the gift of a training with Raizelah." 
-Heather Bishop, MT Supervisor at Osmosis Day Spa Sanctuary
I was always interested in Chinese Medicine and Aromatherapy separately, and here we got the best of both worlds. I have learned new skills that I can offer my clients, elevating my practice to new heights, separating my work from everyone else!
Raizelah, as a teacher, is lovely, kind, and very knowledgeable! I highly recommend her courses to everyone, who is even just remotely interested in this world of Chinese Medicine- do not hesitate!
-Erika Traveras, NY Lisenced MT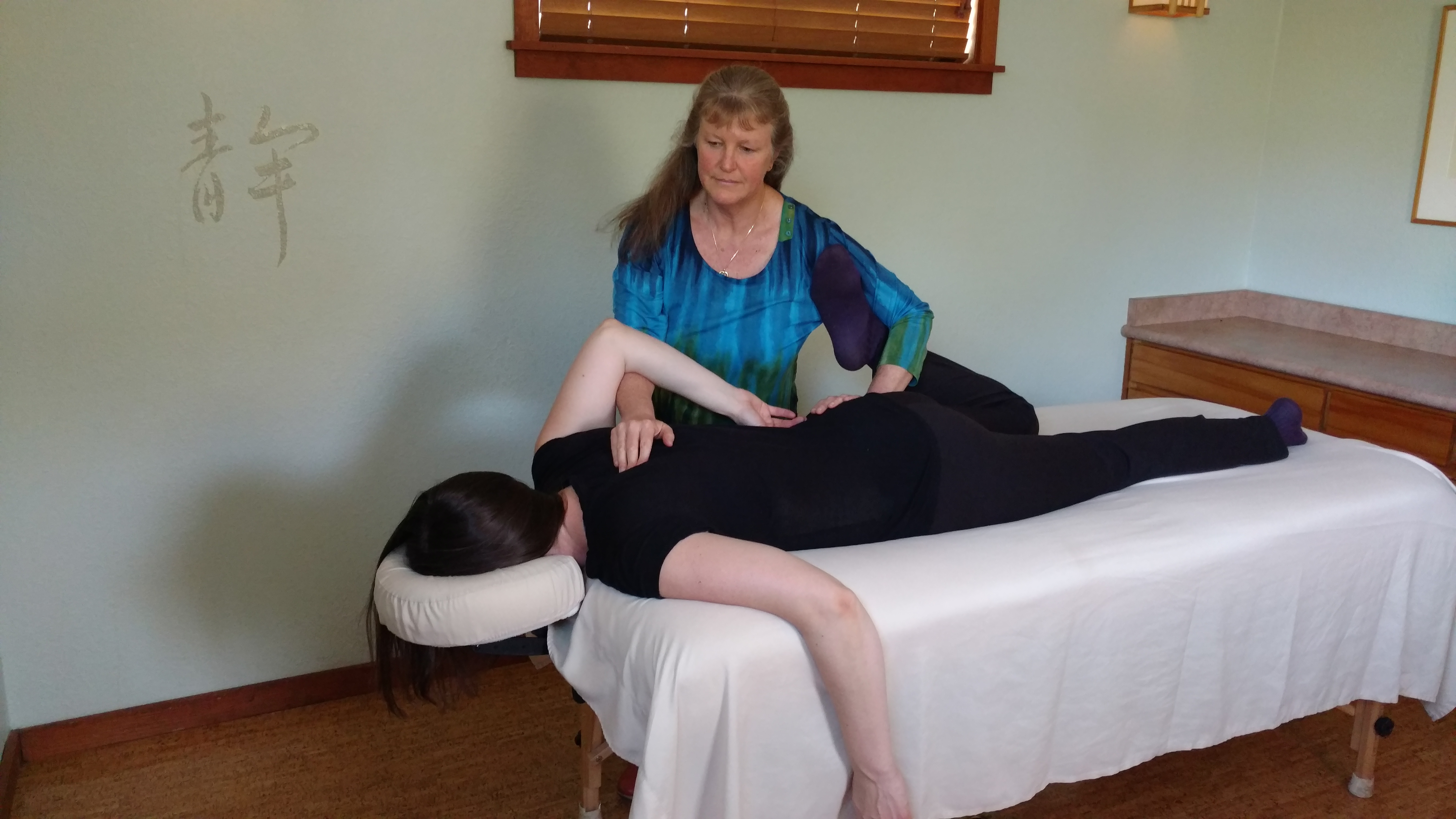 About your Instructor,
Raizelah Bayen,
National Certification Board in Therapeutic Massage and Bodywork Approved CEU Provider
With a passion for learning, Raizelah was certified in Integrative Massage in 1991, and never stopped taking classes in the healing arts. She later trained and certified in Eastern Massage and Acupressure, Jin Shin Jyutsu, Chinese and Western Herbology, Aroma Acupoint Therapy and Yoga instruction.  
Most naturally, Raizelah began to weave together the modalities she studied, in her work, developing a unique style of integrative health care that combines hands-on Meridian Massage and Aroma Acutouch Therapy, with home care regimes of essential oils, herbs and yoga poses to address client complaints. Her hands-on work was informed by her own practices in mindfulness and embodiment, the foundation for her work and life.
Early in Raizelah's career, she discovered her love for teaching. She first started teaching massage in 1998, at Twin Lakes School of the Healing Arts in Santa Cruz, and followed that with 15 years as a core instructor at the Sebastopol Massage School. Concurrently, Raizelah developed and trained massage therapists in continuing education in spa settings. Her integrative approach was also the foundation of a series of wellness workshops she has offered in yoga studios.
In 2020, Raizelah took a professional leap to fulfill her dream of opening a massage school. Open Pathways Institute for Integrative Massage is the fulfillment of this dream. Her passion is to support your professional development into integrative health care, weaving Chinese Acupressure along with Aromatherapy and Herbs, into your existing massage practice to provide in-depth, holistic care for your clients. Open Pathways' classes include Eastern massage modalities, Chinese Medicinal Theory and Acupressure, Aroma Acutouch Therapy, Herbal Formulation and more.